Voltage sensitive relay VSR 12/24V 140A
Dual sense and dual voltage model
This is a new product from BEP
It functions the same as their old dual sense VSR's, but has several extra features
Dual sense
Multi voltage (12/24 volts)
Can be switched externally by the ignition or a separate switch.
Has an output so you can put an LED on the dash to see the DVSR's operation.
DIGITAL VOLTAGE SENSING RELAY
DUAL BATTERY CHARGING MADE EASY
Automatically charges two separate battery banks
Protects electronics from harsh start up spikes
Prevents start batteries from becoming flattened by domestic loads
Features:
The DVSR is connected between two battery banks. When the DVSR senses a charging voltage (13.4/26.8V) on either of the batteries it automatically activates and joins the two battery banks together so they charge as one bank.
Allows charging of two batteries from one charging source
Provides priority charging to engine starting batteries before combining second battery bank for charging
Dual sensing - the DVSR senses both of the connected batteries and will activate when a charging voltage is present on either battery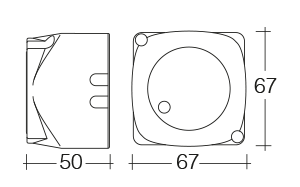 When the DVSR senses that the batteries are not being charged (voltage drops to below 12.8/26.5v) the DVSR deactivates separating the two batteries into two separate banks.
Protects on board electronics from harmful electrical spikes from starter and winch motors
Specifications
Continuous 125 Amps
Intermittent 140 Amps
Ignition Protected UL1107
Auto sensing system voltage 12 or 24 v (max 32 Volts)