VARTA rechargeable batteries offer the best energy solution for every application, and also protect your wallet and the environment. SAVE MONEY - 4 VARTA Rechargeable batteries can replace up to 4000 standard batteries. (Depending on cells in blister and mAh capacity) READY TO USE - VARTA accus are "Ready To Use", which means they can be used straight from the packaging without needing to be charged beforehand. LOW SELF-DISCHARGE - Standard accus discharge when not used for a long period of time – VARTA accus have a very low self-discharge rate and therefore have an extremely long service life.

IF OUT OF STOCK, CAMELION BRAND (USA) SENT IN IT'S PLACE. SEE FEATURES TAB FOR INFO ON CAMELION
Please note, as per our Terms and Conditions, if a product is out-of-stock we replace it with an equal quality branded product. This happens seldomly but, when it does the CAMELION brand from USA will replace an out-of-stock VARTA rechargeable product. See below.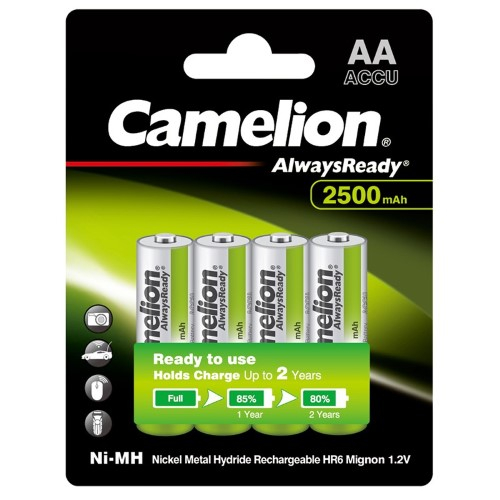 Camelion AlwaysReady is a pre-charged long-life rechargeable battery that saves energy and money to the consumer. It provides excellent performance-to-cost advantages over both conventional dry-cell batteries and other rechargeable batteries. One of its best advantages is able to maintain 85% the capacity after 1 year of storage once fully charged.

Specifications

Electrochemical system: Nickel-Metal Hydrid
Capacity: 800-2500mAh
Nominal voltage: 1.2V