Provides an advanced 3 stage charging process to produce a safe and comprehensive charge, a must for deep cycle batteries.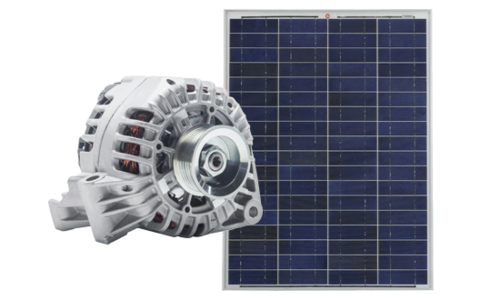 Dual Charging Modes / Dual Input Operation
Simultaneous dual battery charging from both solar and alternator inputs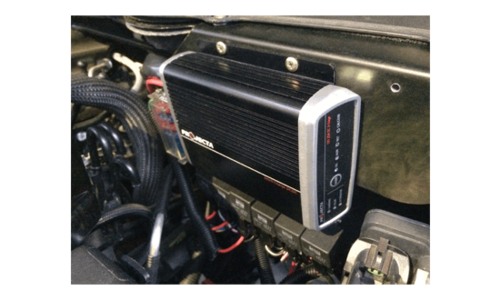 Engine Bay Installation
Sealed to IP67, the IDC is dust, splash and shock proof and can safely operate in extreme temperatures up to 80°C
Multi-Chemistry
Set the charging profile to suit battery chemistry type: Wet, Calcium AGM or Gel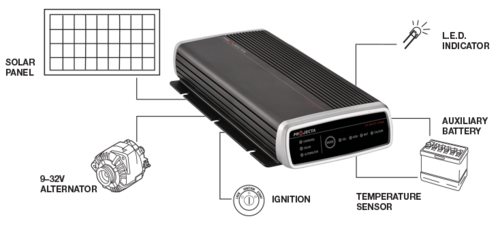 Installation guide

Caravan installation
Combines your solar and vehicle's power to deliver a comprehensive multi-stage charge ensuring longer battery life and preformance.

4WD installation
A sophisticated dual battery charger engineered for in-vehicle or under bonnet installation on vehicles fitted with traditional or smart alternators.
CHARGE TYPE 3 Stage
ALTERNATOR INPUT VOLTAGE 9-32Vdc
MAX SOLAR INPUT 28Vdc, 693W
OUTPUT CURRENT
Input 9-11Vdc 37A,
Input 11-32Vdc 45A
BACK DRAIN ON AUX BATTERY <5mA
CHARGER CONTROL
Gel: 14.1V,
AGM: 14.4V
Wet: 14.7V,
Calcium: 15.4V
BATTERY CAPACITY 150-600Ah
BATTERIES SUPPORTED Gel, AGM, Wet & Calcium
SMART ALTERNATOR
12V: Turn On: 12.2-20V
24V: Turn On: 24.4-32V Turn Off: <11.9V
Turn Off: <24V
CONVENTIONAL ALTERNATOR
12V: Turn On: 13.4-20V
24V: Turn On: 26.8-32V Turn Off: <12.8V
Turn Off: <25.6V
OPERATING TEMPERATUR -10°C to +80°C