Why Intelli-Wave?
Projecta Intelli-Wave inverters deliver class-leading performance, power efficiency and reliability making them the choice of professionals. Engineered to produce ultra clean power, Intelli-Wave inverters feature exceptional peak power performance (200% capacity for 3 secs, 140% capacity for 3 mins) allowing them to effortlessly run demanding appliances such as fridges and power tools. All Projecta inverters are fully isolated and designed in accordance with Australian standards for safety and peace of mind.
Pure Sine Wave Output
Watch television without static, listen to an AM radio, play your favourite game on an XBoxTM, PlaystationTM or WiiTM, run a fluorescent light, or power any other sensitive electrical appliance.
Fully Isolated Design
Safety is paramount around 240V and in particular with inverters which is why Projecta fully electrically isolates the DC (and therefore battery posts, vehicle chassis, etc) from the 240V AC circuit.
Designed to AS4763
Designed in accordance with Australian Standard AS4763 (Int): 2006 – Safety of Portable Inverters.
Dust Proof
Constructed from extruded aluminium, Intelli-Wave inverters are dust proof and shock resistant. The circuit boards have been conformal coated to protect against moisture and other elements so they are suitable for use in a range of locations.
2 Year Warranty
Australian designed and engineered, quality is guaranteed and all battery chargers include a 2 year comprehensive warranty.
AC Transfer Switch
The Projecta 2000 Watt Pure Sine Wave Inverter includes a built in automatic AC Transfer Switch. The switch allows an appliance to be powered from either mains power or the inverter (battery power). The inclusion of the AC transfer makes it ideal for permanent installation into caravans, motor homes, work vehicles etc ensuring a quick transfer of AC power when switching from battery power to mains power and vice versa. The automatic change-over function means there is no need to manually swap over AC plugs or be switching dials between the two power sources.
To ensure a continuous flow of power to the appliance when switching to mains power supply, the IP2000 has been engineered to wait 3 seconds for the power to be steady before switching in a super fast 20 millisecond (0.02seconds) change-over. This guarantees smooth change over and minimises interruption when running appliances, e.g. most TVs won't switch off etc. The IP2000 offers a number of advantages over a typical inverter/charger combination. Keeping the two units independent of one another allows you to combine the IP2000 with any size battery charger for the ultimate and tailor made set-up, and because they are two separate units either can operate without the other in the event that one fails. When mains power is available, the battery charger charges the battery and the mains power passes through the inverter and powers the accessories directly. When the mains is disconnected the battery charger stops working and the appliance automatically switches across to inverter power.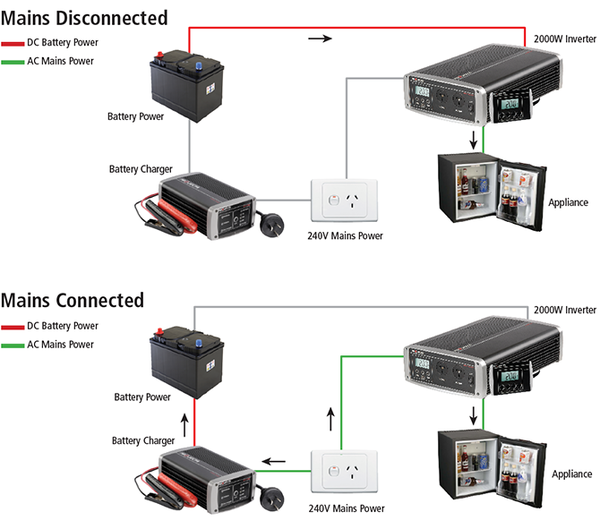 Offering ultra clean power delivery and rugged construction it is ideally suited to the demanding requirements of running larger appliances often found in house boats, yachts, motor homes, caravans.
INPUT 12V DC, 200A Max
RUN TIME WITH 2000W ON 85AH BATTERY 5 min
NO LOAD CURRENT DRAW 1.0A/5mA Eco
RUN TIME WITH 100W GLOBE ON 85AH BATTERY 7 hours
OUTPUT 240V AC 50Hz(Pure Sine Wave)
APPROVALS Electrical Safety, EMC
L.E.D LIGHT INDICATION
OUTPUT POWER 2000W Continuous (4000W Peak)
IDEAL BATTERY SIZE 85-400Ah
MINIMUM BATTERY SIZE 85Ah, 600CCA
INPUT 12V DC, 200A Max
RUN TIME WITH 2000W ON 85AH BATTERY 5 min
NO LOAD CURRENT DRAW 1.0A/5mA Eco
RUN TIME WITH 100W GLOBE ON 85AH BATTERY 7 hours
OUTPUT 240V AC 50Hz(Pure Sine Wave)
APPROVALS Electrical Safety, EMC
L.E.D LIGHT INDICATION
OUTPUT POWER 2000W Continuous (4000W Peak)
GREEN LIGHT Power on
INVERTER CLASSIFICATION Equipotentially Bonded (EPB)
GREEN LIGHT (FLASHING) High battery voltage shutdown
EFFICIENCY 85-90%
GREEN/RED LIGHT (FLASHING) Low battery voltage shutdown
LOW BATTERY ALARM/SHUTDOWN Alarm 10.5V, Shutdown 9.75V (±0.2V)
RED LIGHT (FLASHING) Overload shutdown
COOLING FAN Automatically temperature controlled
RED LIGHT Over temp shutdown & output short circuit
THERMAL SHUTDOWN 65°C (±5°C)
FUSE 350A Mega Fuse